Homemade PROBARS
Eating healthy is hard for everyone. Kayli and I can try our hardest to simplify things and inspire, but we know it's still a challenge. We have our struggles too. My main challenge is eating "enough". Eating healthier results in eating more fiber, so you feel full on food that's generally lower in calories.
As Kayli's clients know, this strategy is great for weight loss. But I'm not trying to lose weight – I want to fuel my day. I'm ready for a meal about every 3 hours (as it should be- meals heavy enough to hold you over for longer tend to be bad news). The whole "eat every 3 hours" may be the healthiest strategy, but I don't have time to be prepping and eating 5+ meals per day.
I'm also fairly certain these are the times when my "hangriness" has earned me a few not-so-cherished nicknames (Grumpy Jim, for example). But frankly it's just simple math – we all need a certain amount of fuel to run our engines. If you have less fuel at each meal, you need more meals to get the same amount of energy.
The secret: a phenomenon called the snack. A dude has to be on top of his snack game. My favorite is the bar. It's easy. It doesn't require thought or prep or even utensils. You unwrap it, take a few bites, and get on with your business.
My favorite bar- and I've tried them all- is the PROBAR Meal. It's made of minimally-processed ingredients I can recognize and pronounce, it's tasty, and it has over 350 calories – perfect for topping off the tank between meals. At $3 per bar, my love for PROBARs adds up quickly, so I decided to make my own.
First, I cut the ingredients down to 10. My favorite flavor (Superfood Slam) has 33 ingredients – many of them greens or superfoods that sound super healthy but actually just run up the price with unnecessary trendiness.
[left]
PROBAR Meal
Brown Rice Syrup
Oats
Peanut Butter
Dates
Sunflower Seeds
Chocolate Liquor Drops
Raisins
Cashews
Flax Seeds
Sesame Seeds
Almonds
Crisp Brown Rice
Dried Cane Syrup
Hemp Seeds
Raspberry Puree
Canola Oil
Vegetable Glycerin
Acai Powder
Dried Pineapple
Dried Cane Syrup
Dried Papaya
Wheat Grass
Barley Grass
Alfalfa Grass
Oat Flour
Pumpkin Seeds
Molasses
Arabic Gum
Raspberry Flavoring
Citric Acid
Salt
Natural Preservatives
Rosemary Extract (WTF?)
[/left]
[right]
DICE PROBAR
Brown Rice Syrup
Oats
Almond Butter
Dates
Sunflower seeds
Flax Seeds
Almonds
Dark Chocolate Chips
Dried Cherries
Pretzels
[/right]
Simple, right? And it's pretty damn close to the nutritional profile of the PROBAR.
Homemade PROBARs
Prep time:
Cook time:
Total time:
Salty sweet whole food fuel for a fraction of the price.
Ingredients
½ cup whole unsalted almonds
½ cup hulled unsalted sunflower seeds
½ cup whole flaxseeds
½ cup dried cherries
½ cup pitted dried dates
½ cup dark chocolate chips
¼ cup almond butter
1 cup old-fashioned oats
heaping ¼ cup brown rice syrup
½ cup salted pretzels
Instructions
Preheat oven to 350F and lightly grease or line a 9" x 7" baking dish with parchment paper.
Soak dates in a bowl of water.
Grind flax seeds in coffee grinder.
Combine almonds, sunflower seeds, flax seeds, chocolate chips, oats into a food processor. Pulse until almonds are mostly chopped in quarters.
With a knife, chop cherries and dates into small pieces.
Crush pretzels to desired size.
Add almond mixture, fruit mixture, pretzels, and remaining ingredients to large mixing bowl. Mix until brown rice syrup and almond butter are even distributed to bind all ingredients together. This takes some elbow grease.
Firmly press mixture into pan/baking dish.
Bake for 15 minutes.
When cool, cut into 8 bars.
Nutrition Information
Serving size:
1 bar
Calories:
398
Fat:
18g
Saturated fat:
3g
Carbohydrates:
57g
Fiber:
9g
Protein:
9g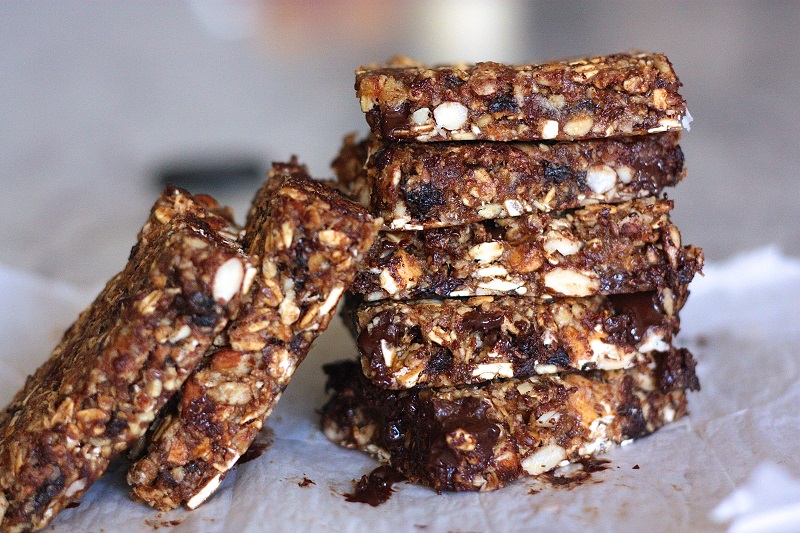 The result? A snack that could pass for a dessert. Oh, and these will set you back just $0.95 per bar. Enjoy!
P.S. Kayli wrote a guest post on Kath Eats Real Food, one of our favorite blogs.Check it out to enter the LÄRABAR giveaway!
P.P.S. I made another version of these – check out Dark Chocolate Sea Salt & Fig Bars.